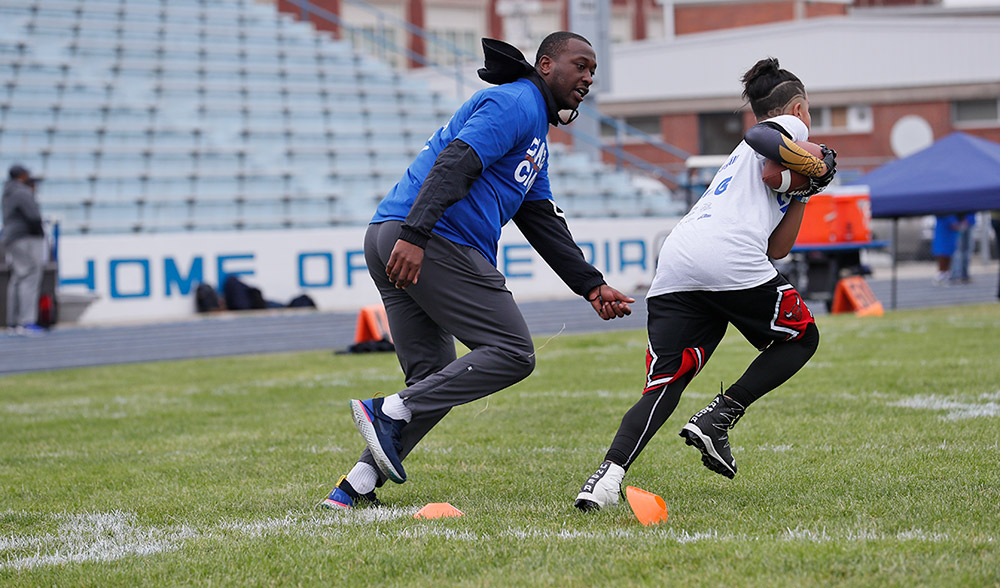 2023 CHAMP Camp is Back in Panama City, FL!
The premier program of HPI, the C.H.A.M.P. Camp strives to instill the core values of Character, Heart, Attitude, Motivation, and Pride through football fundamentals instruction and incorporating a variety of guest speakers who will be delivering messages on life skills and the importance of making good decisions.
Come join us to work on football fundaments in our 2 day non-contact camp. Improve your skills and enjoy competing – all in the name of football!
This year's CHAMP Camp will be held at Tommy Oliver Stadium, Panama City, Florida, June 23-24, 2023.
We will be in compliance with new heat regulations.
COVID – 19 Update
First and foremost, I hope this email finds you and your family healthy and safe. Your health and well-being continue to be paramount as we navigate thru the coronavirus pandemic.
The spread of COVID-19 has impacted all facets of our lives. Our staff has been in constant prayer for you and your family through these unprecedented times. We have taken the virus very seriously and will continue to make decisions with the health and welfare of our Heart Power family as the number one priority. Heart Power will be following all directives, guidelines and suggestions from state governments and the Centers for Disease Control and Prevention as it relates to COVID-19. Click here to read our COVID-19 Safety Guidelines.
Many of you have supported our vision for over 10 years – you are our lifeblood! We are excited to host CHAMP camp at Mosley High School June 24-25, 2022. We appreciate your continued support and look forward to seeing you soon!
God Bless,
The Kelly Family
"The quality of a person's life is in direct proportion to their commitment to excellence, regardless of their chosen field of endeavor…
Once a man has made a commitment to a way of life, he puts the greatest strength in the world behind him. It's something we call heart power. Once a man has made this commitment, nothing will stop him short of success." – The great former NFL coach Vince Lombardi
We extend our sincere appreciation to our sponsors, without whom our season would not be possible.
I would just like to take a moment to let you know how much your camp not only meant to my son, but me also! It was AMAZING! I am so glad that he was able to attend… the Coaching staff and speakers were EXCELLENT! I was most proud of the fact that almost each and everyone of the speakers talked about school, your friends (who you surround yourself with) and God. My son has attended other football camps before but nothing like this… read more
Dear Stephanie and "Champ":
On behalf of the athletes and coaches of Special Olympics, Florida, Jackson County, I would like to take this opportunity to thank you for your generous donation to our program. Our athletes thoroughly enjoyed working with your staff at the football camp. It is a great experience for our athletes to see the kind of training that is delivered to other athletes in the community… read more