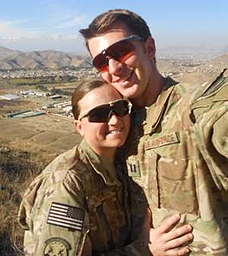 On December 27th, 2013, in Kabul, Afghanistan our brother and friend Captain David Lyon paid the ultimate sacrifice in the service of his country. Dave loved serving kids and always looked forward to working the C.H.A.M.P. Camp. He was our gentle giant and he constantly exemplified everything that C.H.A.M.P. stands for and more. He is an example of what it means to put service before self. Dave Lyon was awarded the Bronze Star, Meritorious Service Medal, Purple Heart and the Air Force Combat Action Medal. To honor our fallen hero, we'd like to recognize 2 campers over the course of 2 days at the camp that exemplify the core qualities that Captain Lyon embodied: Service, Leadership, Hard Work, and Sacrifice. Please be on alert to make suggestions.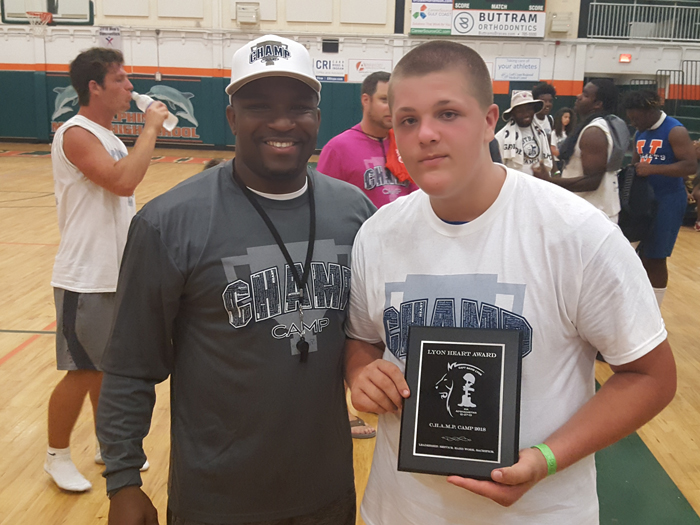 Jordan Sikes
Florida • Age 13
My name is Jordan Sikes. I'm 13 years old and will be going into 8th grade at Everitt Middle School in Panama City, FL. I am on the school math team and my favorite subject is physics I am in Florida State University's "Future Physicist" program. I love chess and would like to compete at it one day. I am currently a varsity wrestler at AAU for the PC Elite Team at Mosley High School, where I am undefeated against the high school guys in tournaments in the 285 lb division. I recently won the Goodfight World Qualifier "Battle at the Beach" on 7/14/2018 for super heavyweight Brazilian Jiu Jitsu, and on 7/21/2018 I won the North American Grappling Association US Nationals Tournament teen expert division title belt in Orange Beach, AL. The discipline and motivation Coach Champ spoke about at CHAMP camp this year helped me to achieve these goals. My goal is to one day play football for either Vanderbilt University or for the University of Florida while studying to be an Ophthalmologist or Optometrist. I think helping the blind to see is a good way to serve my community. When I was awarded the Lyon Heart Award I was shocked and motivated to keep working hard, because it was proof all the hard work can be rewarded. Thanks everyone, Jordan Sikes.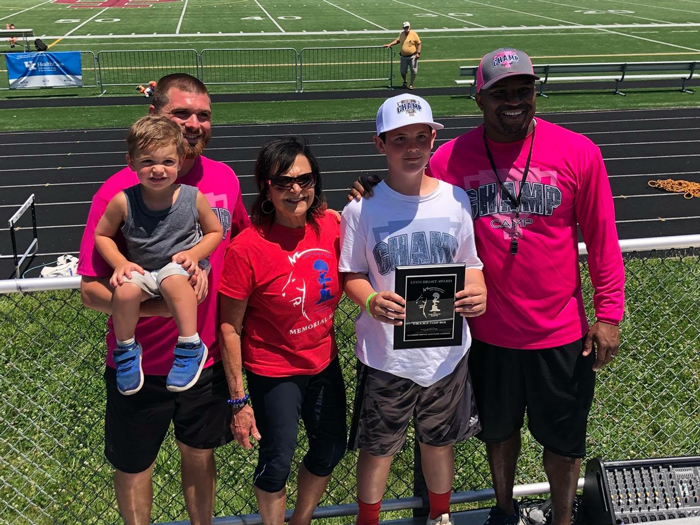 Ethan Barnett
Kentucky • Age 13
Hello! My name is Ethan Barnett. I am 13 years old and I attend St. Martha Catholic School in Louisville, Kentucky. My love of football began on the flag football field in first grade and grew even greater when I moved to tackle in third grade. Outside of football, I enjoy playing basketball and volleyball for my school. I am also on the Academic Team and have participated in our school play.
I knew as soon as I stepped on the field for the first time, football was my game and I felt unstoppable. The main positions I play are linebacker on the defensive side of the ball and offensive linemen on the O-Line. I play under sized as a rising eighth grader, but I don't let that affect me. One of the first things I remember hearing Champ say was, "You don't have to be the biggest or the baddest you just have to have heart."
I have attended Champ Camp for three years and I have loved every second of it! When I talk to these coaches, I realize how football has changed their lives and I would love it to be as impactful on mine. Champ and all of the other coaches have helped improve my game and inspired me to work harder. The vibes and the attitude at this camp are awesome! The coaches don't look down on certain kids because they might not be as talented and they don't care what you've come from, as long as you show effort.
This past year, I was recognized with the Lyon Heart Award for showing leadership, service, hard work, and sacrifice. I have definitely developed these qualities on the football field with help from the coaches and staff at Champ Camp who live by this in their everyday lives. I also appreciate Captain David Lyon, who paid the ultimate sacrifice for our country, and for his family for allowing his spirit to live on.
Football is not the only thing that matters in my life. I try to live by something Champ once said at camp – God first, family second, school third, and sports fourth. My family attends church every Sunday, we eat dinner with each other most days, and in school I have a 4.0 GPA. When I get older I hope to work in sports management for a professional sports team because even if you're not playing, you're still in the league.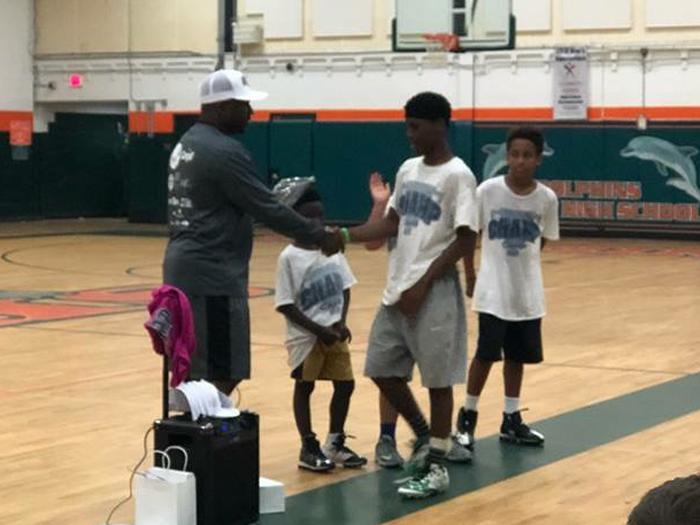 Giovanni Romero
Colorado • Under 13
Kaiden Keefe
Colorado • Over 13
Geovani Logan
Kentucky • Under 13
Christian Massie
Kentucky • Over 13
Jerrald Jackson
Florida • Under 13
Khalil Wallace
Florida • Over 13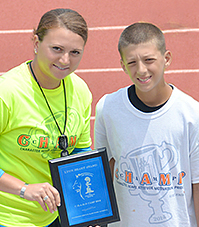 Anthony Dellanno
Colorado • Under 13
About Me – I turned 11 in June. I was born in New Jersey but moved to Colorado 4 years ago. I love mountain biking and skiing.
School – I'm starting school in the fall at Rocky Heights Middle School in Highlands Ranch. My favorite class in school is Earth Science. I like learning about earth science because it challenges me and I love the rock formations. My grades are good and I always do my homework.
Sports – I have been playing sports for 6 years. Baseball is my favorite sport. I played t-ball for two years in Jersey. For 3 years I have been playing kid pitch.I also love football will play quarterback this year and I am very excited. I also play gold crown basketball.
Conclusion – The Champ Camp had us only wearing shorts and t-shirts. Almost everybody worked for the Broncos in a certain way. The award was a lot more valuable than any other award I ever got because it was about being a team player. Also, I am proud of our veterans.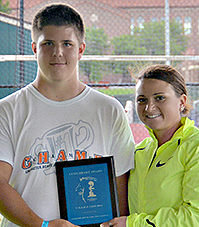 Eric Young
Colorado • Over 13
I have been keeping in touch with Captain Dana and also went to Dave's run up at Peterson Air Force Base. There, I met Captain Dave's parents and also met Captain Dana's mom. I have been talking with Dana to set up a service project in order to honor her and Captain Dave and also to help support a cause that they both stood for. I am planning to do this through my school, Rock Canyon and get my football and lacrosse team involved. Next year I will be a sophomore at Rock Canyon High School, which is located in Littleton, CO. I am looking forward to the upcoming year and football season playing fullback. The head coach at Rock Canyon is Brian Lamb. He took over the program last year and has made some great changes and improvements including a better weight and conditioning program over the summer. This next week the team is heading up to Larkspur for summer camp and will be spending five days up there. I really am looking forward to seeing what this team can do in this upcoming season. I also play lacrosse for Rock Canyon as a defenseman. I am also looking forward to the lacrosse season that starts next February. I have been playing classical piano since I was five and continue to practice and play classical music. I also love to powerlift and have been training with a powerlifting coach since the beginning of eighth grade. I have not been in any meets but would love to do one with the help of my coach.
Christian Garrett
Kentucky • Under 13
My name is Christian Garrett. I live in Lexington Kentucky. I am thirteen years old and an eighth grader at Jessie Clark Middle School. I have played sports my whole life really whether it be baseball, football, or basketball. I have been playing baseball for 9 years of my life, and I have played football for 7 years and I have loved both of them a lot and continue to play them. I try to hold myself accountable not only in sports but in the classroom too. My seventh grade year at Jessie Clark I was inducted into my Beta Club at school and had a 4.0 grade average all year long.
I am also a Christian and attend my middle school and big service weekly at Southland Christian Church. I am in a youth group at my church. I really couldn't ask for a better group of guys to go hang out with they are very encouraging in my walk with Christ and sports. I hope I get to stay with them for a long time they really help me out and I really love them.
As I said earlier I am an eighth grader at Jessie Clark Middle School. I have been on my middle school team since sixth grade and have learned more and more about football each year from a great coaching staff. My seventh grade year we were Fayette County Public School City Champs.
My head coach this season is Eric Schlarb our offensive coordinator and assistant coach since my sixth grade season. Coach Schlarb was the head coach before my sixth and seventh grade year head coach Dennis Johnson. Coach Johnson went to Lafayette high school this year to be an O-Line coach there as long with our B-Team head coach Coach Smith. Thank you for reading and if there is anything you would like to tweak please contact me. thank you once again and I hope you have a great day.
Thank you and here are some big points I learned at CHAMP camp. I learned to keep going, anything you do give it all you got, have a good attitude, make right choices, and mostly to don't let people tell you that you can't.
Noah Tubridy
Kentucky • Over 13
Noah Tubridy will be a junior in the fall of 2014. He attends Lexington Catholic High School and has played center, offensive guard, and nose guard. Tubridy has been playing football within the Lexington Catholic Football program since first grade. As a junior, Tubridy will be in his 2nd year as a varsity starter at guard. This past summer Tubridy was selected as the Lyon Heart award recipient at the Lexington C.H.A.M.P. Camp. Academically, Tubridy has maintained a 3.7 GPA while taking several honors courses. He plans to attend college after graduation and study finance or accounting.
Tubridy's other achievements include:
• Co-recipient of the 2013 Lexington Catholic Football Squire Award, which recognizes the outstanding freshman on the team.
• Selected to participate in the 2013 Kentucky vs. Tennessee 8th grade Future Stars football game.
• Named to the 2012 KYMSFA East West all Star game as an 8th grader.
Head Coach Mark Perry's comments: "Noah exemplifies what we're looking for in a player at Lexington Catholic. His attitude and determination are second to none."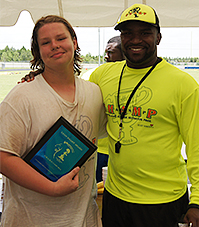 Gryffin Schramm
Florida : : Under 13
I have been playing football for seven years. When I was little I always had to play with the older kids because of my weight. When I was 9 I had to play with the 12 to 14 year olds which made me even better. The next year I had to sit out because of Pop Warner weight rules. The following year I found the Barracudas that had no weight rule and was able to play. There I really learned the fundamentals of football and found my love for the game. In 2013 I went to the Jimbo Fisher Football Camp and the N.P.F.A. Top 100 in Atlanta and had a lot of fun. I have been playing with the Barracudas for three seasons. Last year I played both with the Barracudas and my middle school and kept a 3.8 GPA for the year in advanced classes. This year I attended the Champ Kelly C.H.A.M.P. Camp where I learned a lot and made a lot of new friends. Football has meant the world to me for quite some time and it is my dream to play in the NFL.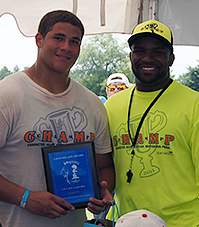 Maxwell Williams
Florida : : Over 13