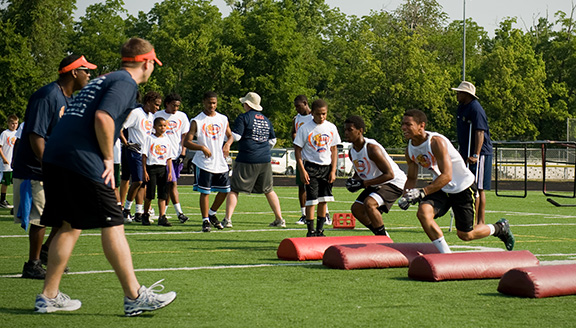 C.H.A.M.P. Camp
The premier program of HPI, the C.H.A.M.P. Camp strives to instill the core values of Character, Heart, Attitude, Motivation, and Pride through football fundamentals instruction and incorporating a variety of guest speakers who will be delivering messages on life skills and the importance of making good decisions. These 2-day, non-contact youth football camps, for kids ages 10-17, are held each year between the months of June and July.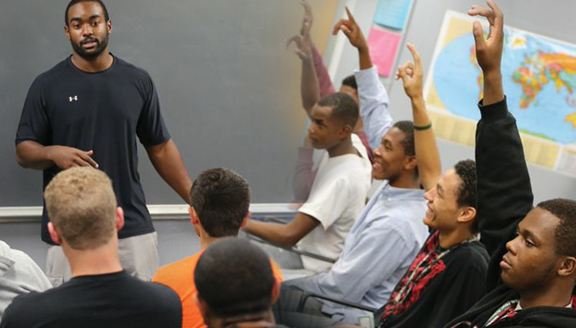 Elevate
We are offering this one of a kind program to a select group of 35 junior and senior athletes. Underprivileged high school aged student-athletes are motivated to capitalize on tremendous resources in order to equip themselves for life after high school. We achieve our goals through a custom program that includes test prep and classroom tutoring, leadership and life skills development, mentorship, and high intensity athletic training.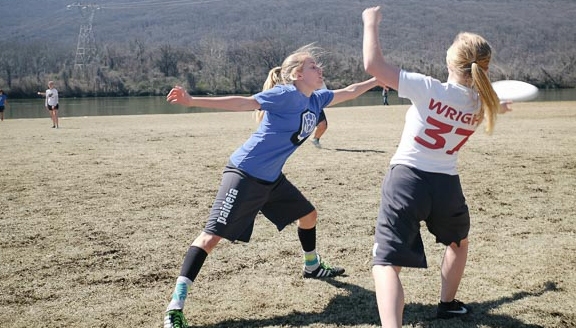 Ultimate Frisbee
Emerging from the success of the original C.H.A.M.P. Camp, we have developed C.H.A.M.P. Ultimate Frisbee Camp. This two-day frisbee camp strives to instill our founding core principles in each of our campers. Through the teaching of frisbee fundamentals (catching, backhand, forehand, marking, pivoting / faking, downfield defense, cutting, and force) and guest speakers, we set campers up for success both on and off the field.
"The quality of a person's life is in direct proportion to their commitment to excellence, regardless of their chosen field of endeavor…
Once a man has made a commitment to a way of life, he puts the greatest strength in the world behind him. It's something we call heart power. Once a man has made this commitment, nothing will stop him short of success." – The great former NFL coach Vince Lombardi
I would just like to take a moment to let you know how much your camp not only meant to my son, but me also! It was AMAZING! I am so glad that he was able to attend… the Coaching staff and speakers were EXCELLENT! I was most proud of the fact that almost each and everyone of the speakers talked about school, your friends (who you surround yourself with) and God. My son has attended other football camps before but nothing like this… read more
Dear Stephanie and "Champ":
On behalf of the athletes and coaches of Special Olympics, Florida, Jackson County, I would like to take this opportunity to thank you for your generous donation to our program. Our athletes thoroughly enjoyed working with your staff at the football camp. It is a great experience for our athletes to see the kind of training that is delivered to other athletes in the community… read more