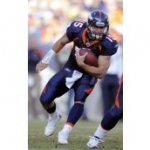 Twitter: @PCNHJasonShoot
DENVER — Anthony "Champ" Kelly finds himself smack dab in the middle of the maelstrom that is Tebowmania.
The Campbellton native is the assistant director of pro personnel with the NFL's Denver Broncos, and he's had a privileged seat watching Tim Tebow and the Broncos ascend to the top of the AFC West and make a run toward the playoffs.
"I've never been in a situation — and I've played on almost every level, coached and done some stuff in football — I haven't been around a guy or a situation like this with Tim," Kelly said late last week. "But he directs the attention to the right place. He doesn't ask for all of this. He wants to go out, play football and win games.
"He knows where his faith comes from, and that's the main thing."
Tebow will quarterback the Broncos against one of the NFL's most consistent franchises over the past decade, the New England Patriots (3 p.m. CST, CBS). Denver (8-5) has won six straight games and seven of eight since Tebow earned the starting nod over Kyle Orton following Week 5.
Tebow has rallied Denver to a number of come-from-behind victories this season, but he can't afford to start slowly as he has in most of his games. New England will try to establish an early lead and force the Broncos to rally by throwing the ball, which not only puts added pressure on Tebow, but it also could make Denver more one-dimensional without a running game to balance the play calling.
"We're playing against one of the best teams in the NFL over the last few years," Kelly said. "They have one of the best QBs (Tom Brady) and one of the greatest minds in coaching (Bill Belichick). The only thing we can do is just go out there and put forth the best effort we're able to do, try to play mistake-free football and feed off the energy (of the home crowd.)
"There's nothing like seeing a sea of orange and blue. From the singing of the national anthem to the sound of the last horn, they're absolutely amazing. The last few weeks we've had to fight for the entire game, and the fans are right there fighting with us. Their belief gives us the surge to keep playing."
Kelly tip-toed around a question asking about the comparisons between Tebow and two-time Super Bowl winner John Elway, who played his entire 16-year career in Denver and now is the Broncos' executive vice president of football operations.
"I really hate comparing two different people and two different eras," Kelly said. "Knowing those two guys, they are team-first guys, and both of them are winners. What John Elway has done in the organization and for the organization since he came back as an executive vice president has been a tremendous uplift for the front office. … For him to step back into the building in a leading role just shows how important it is for him and also for these fans. It could have been easy to stay out and do what he's doing in life.
"He's successful in everything he does, and he came back because he loved the owner and loved the Broncos and Bronco Nation. As his employees, we get a chance to work for a person who was a tremendous athlete and still is a tremendous athlete. I work out with him every day, and he's a tremendous competitor. That stuff never leaves him."
Kelly serves as an advance scout for the Broncos, and under typical circumstances he'd be in Buffalo this weekend scouting the Bills as they host Miami. His wife, Stephanie, is 33 weeks pregnant, however, and they an anxiously expecting their first child. Kelly described himself as "absolutely nervous" as he awaits the arrival of a daughter, whom they intend to name Claire.
"It's very important for me to be an integral part of my daughter's life," Kelly said. "I want to make sure I'm there. In the midst of all this chaos and stuff going on with the Broncos and our media darling Tebow is I have a family I'm responsible for. … We're winning, we've got this Tebow thing, my wife is pregnant, we just bought a new house, and we're adding another location for our C.H.A.M.P. Camp (held every summer in Graceville, among other locales). It's a ton of planning, but it'll be all good."
Read more: http://www.newsherald.com/articles/middle-99151-tebowmania-campbellton.html#ixzz1h69PuVBv