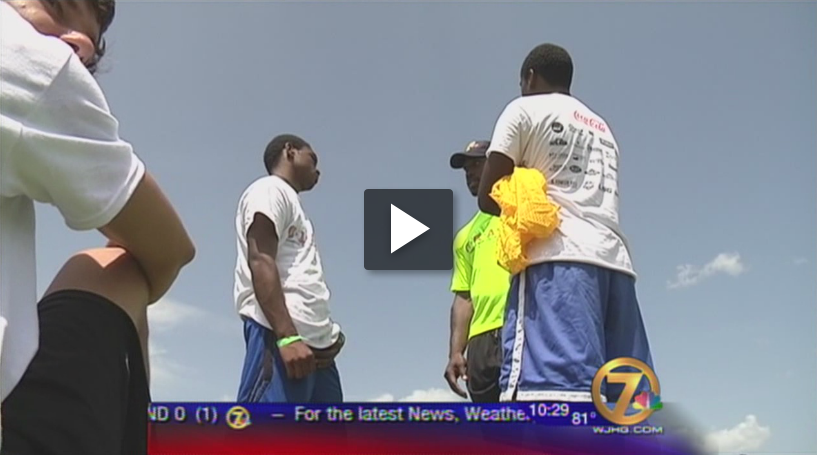 See Original Article and Watch Video
Sand Hills, FL—This is the time of year when those with the knowledge are working to pass that knowledge along. Certainly Jackson County native and current Broncos executive Anthony "Champ" Kelly falls under that headline.
For the 5th year in a row, Kelly, the Bronco's Assistant Director of Pro Personnel, is conducting his "C.H.A.M.P. Camp" in our area, this the second year at Bozeman.
The camp allows kids between the ages of 10-18 to come in and get football instruction from Kelly, area coaches, and even current Rams linebacker Will Witherspoon, a Rutherford alum.
These kids also given some life instruction, Champ Camp an acronym for Character, Heart, Attitude, Motivation, and Pride.
Five years ago he started with about 40 kids participating. This year they're working with more than 350! So success on many levels for the Graceville alum!
"What I like to tell people, you know we don't care about numbers. Our biggest thing is substance and we want these kids to come here, learn, work their tails off and be better when they leave than when they got here. So if we have five kids, we're gonna have 60 coaches coaching those five kids, so they're gonna be the best five kids in the state."
"There's nothing like being at home, first of all. But to talk to these kids, these young men really about what it's gonna take to be succesful not just from this point, but to be succesful the rest of their lives. Not just about football, not just about where they, what they want to accomplish at this point of their lives, but how to do it all. That's a great thing."
For Witherspoon, he's excited to give back to both the high schoolers and youth players in the place he grew up, giving them advice and guidance he wishes he could've gotten at their age.
Man this is a great moment." says Witherspoon. "To just to have a chance to come back and be at home and do things here and teach these kids, you know, the things I've learned in my 12 years in the league. The game itself makes guys understand what they have to do and accomplish in life, how they can accomplish in life, and what they can do to accomplish in life."
In terms of the teaching on the field, Kelly brings the same drills and methods run in Denver with the AFC Champion Broncos.
"We operate like a college football practice," says Kelly. "And the drills that we do will do are the same that you'll see Peyton Manning do and Von Miller, some of these guys who I work with on a daily basis. So, we're breaking it down to a level where a kid in high school or playing youth ball can learn, but they're the same drills."
The camp set for another day of instruction Saturday, running from 8:30-2:30 PM.