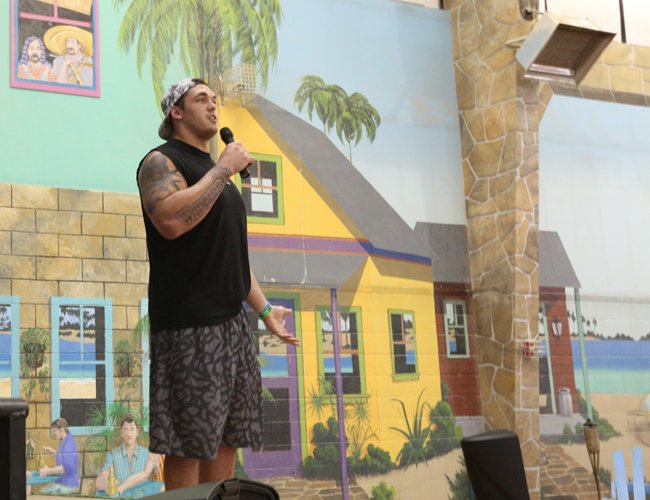 DENVER, Colo. – Broncos defensive end
Derek Wolfe
hosted his first Colorado event to benefit the Wolfe Pack Foundation on Sunday afternoon.The Derek Wolfe Summer Charity Bash was hosted at The Island and included food, drinks, music, a silent auction and a sand volleyball tournament, featuring Broncos players. Though the event was a fun way to start the summer, the goal was to raise money to help underprivileged youth in Colorado."Really I just want to help every aspect of these kids as far as being underprivileged and not having much," Wolfe said at the event. "I want to help them in all the aspects of life. It touched my heart. There wasn't a lot of things out there for me to do, it was just individual people that were helping me, so for me to have a foundation that helps all of those things, all those aspects – life skills, football, school, all the stuff – that's kind of what I like."
Funds from the event will help start the Foundation's ELEVATE program, which will help underprivileged Denver youth by providing them with tutoring, ACT prep, life skill lessons and sport training. The program is a result of the Wolfe Pack Foundation teaming up with Champ Kelly's foundation, Heart Power, Inc.
Kelly, the Broncos' assistant director of pro personnel, said Wolfe has "a tremendous heart for underprivileged youth."
"We want to really affect these kids' lives and just give them an opportunity that we didn't have when we were growing up," Kelly said. "I know Derek told his testimony. He took the ACT five times before he passed it and before he got into college. If there is one kid that we can help take this test the first time and make it into college, then we've done our job."
Throughout the event, volleyball teams competed in a tournament to play the Broncos in a finale match. Wolfe, safety David Bruton, tight end Gerell Robinson, defensive end Malik Jackson, defensive back Charles Mitchell and guard Ben Garaland competed in the final match of the day, but lost 30-27.
"I'm here to support my teammate," said linebacker Nate Irving. "We're like a family, it's a brotherhood and every chance we get to support one another, we try to."
Irving didn't know which Bronco had the best volleyball skills, but he was sure of one thing.
"It's not Malik," he said.
Wolfe said "you can never do too much" and he plans to help people in need as much as he can.
"When I was coming up and coming through college, there was always guys coming back and helping us and telling us, 'Hey make sure you guys give back, make sure you always give back,'" he said. "I always said when I was a kid 'when I make it, I'm going to help somebody.' I want to be able to help somebody like I was helped."
See Original Article on DenverBroncos.com